Unbound: Freedom in Christ
Encounter Jesus in the gospels and experience the healing he brings
with Fr. William Holoubek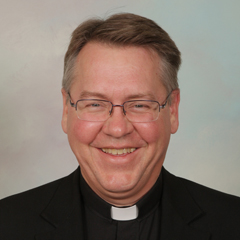 Fr. William Holoubek
Feb. 4-6, 2022
Virtual Retreat includes 6 talks, 1 recording, and many handouts.
Encounter the overwhelming love of God who can enter into the pains and wounds of life.
The Unbound retreat will be led by Fr. William Holoubek, held in conjunction with the Unbound Ministry of the Diocese of Lincoln, lincolndiocese.org/unbound.
Unbound provides a safe and effective model that helps individuals respond to the Gospel and apply the Lord's grace, love and truth by deeply listen to their own story and heart. Based on the book, Unbound: A Practical Guide to Deliverance by Neal Lozano, it employs five keys that enable people to experience a profound conversion experience: 1. Repenting of sin and expressing faith in Jesus; 2. Forgiving oneself and others; 3. Renouncing the lies, spirits and tactics of Satan; 4. Taking authority over the works of Satan; 5. Receiving the Father's blessing.
Unbound Ministry is an approach to deliverance and healing prayer that teaches one how to listen and respond in Five Key areas, to seek greater freedom, and how to help others do the same. Each key assists individuals in overcoming the spiritual obstacles they encounter and gives practical ways to respond to the grace that unlocks the door and sets us free.
"We are all fighting a spiritual battle," Fr. Holoubek explained. "We struggle with negative thoughts, secret sins, and unhealthy relationships; we have destructive habits, idols, and false identities; we carry resentments and bitter wounds that never seem to heal."
As Unbound ministry is a deeper dive into listening to the heart, participants are invited to read in advance the first part of "Unbound" by Neal Lozano or watch the video series.  Men and women who come on the retreat will have the opportunity to be prayed for using the five keys.  Read more about the Five Keys at Heart of the Father Ministries (heartofthefather.com).
Ordained for 25 years, Father William Holoubek is pastor of St Mary in Ashland and St. Joseph in Greenwood, and also director of the Diocesan Mission Office.
Questions? Call us at 402-786-2705,
or email us at office@goodcounselretreat.org