Pro-Life Day Retreat
with Bishop Athanasius Schneider
Sponsored by One Heart, One Mind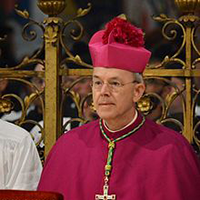 Bishop Athanasius Schneider
October 19, 2021
Day Retreat (9am-4pm)
Sponsored by the Pro-Life Initiative

In-Person retreat is full! If you register on "backorder" you will be put on the waiting list in case of cancellations, and receive lifetime online access.
Bishop Athanasius Schneider is a leading voice speaking out for Catholic truth. The auxiliary bishop from Kazakhstan learned his love for the truth of the Church while growing up under atheistic Soviet rule. This background formed his strength of character, integrity and virtue, as well as his unswerving pro-life commitment and reverence for the Eucharist.
At age 20 in 1982, Anton Schneider made his profession in the Order of the Holy Cross, a religious order within Opus Sanctorum Angelorum. He trained as a seminarian first in Rome and then in Brazil, where he was ordained a priest in 1990, and spent the early years of his priesthood there. a Roman Catholic.
He then spent 10 years in Rome, earned a doctorate in patristics, and served as general councilor for the order. The Archbishop of Karaganda, Kazakhstan, chose Father Schneider to help build the Mary, Mother of the Church Seminary there because he spoke Russian. Starting in 1999, Father Schneider taught patristics at the seminary.
Pope Benedict XVI appointed him auxiliary bishop of the Diocese of Karaganda in 2006, and five years later, he was transferred to be auxiliary in Astana. He is also the general secretary of the Bishops' Conference of Kazakhstan. The predominantly Muslim country of Kazakhstan has around 250,000 Catholics out of a population of 15 million.
The October 19 Pro-Life Day Retreat is hosted by One Heart One Mind, a Lincoln, Nebraska grassroots Pro-Life Initiative.
Our Mission: To Pray. To Educate. To Act. We seek to support and equip ourselves and other believers to respond to God's call to faithfully witness against the culture of death and to proclaim the sanctity of life.
We Believe…
We cannot ignore the gravity and horror of abortion as a crime against the unborn and humanity.
We need to defend and proclaim the sanctity of life boldly and fight the use of aborted human fetuses in medical and other research.
A renewed prayerful, passive, non-violent resistance to the culture of death is needed today.
No one should be forced, coerced or pressured to take abortion-tainted vaccines or medications.
All in-person options include 8:00am continental breakfast.
The schedule of Bishop Schneider's talks (Central Standard Time CST), in-person and live-streamed is: 9:30am First Talk, 11:00am Holy Mass, 2:00pm Second Talk, and 3:30pm Q&A.
Bishop Schneider will also preach a 7:00pm CST Holy Hour at St. Thomas Aquinas Newman Center in Lincoln (livestream at https://huskercatholic.com/virtualnewman).
Questions? Call us at 402-786-2705,
or email us at office@goodcounselretreat.org