Personal Vocation & the Christian Woman
Equipping women to recognize and cultivate her God-given genius
with Simone Rizkallah of ENDOW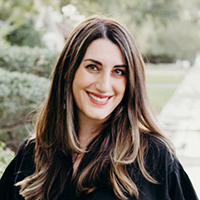 Simone Rizkallah of ENDOW (Women Only)
October 15-17, 2021
3-Day Weekend Retreat for Women only
Retreat starts Friday at 7:00pm, ends Sunday with Noon lunch.
Endow invites women of all ages to participate in community and a small group experience at a weekend retreat Oct. 15-17 at Our Lady of Good Counsel Retreat House.
Entitled "Personal Vocation and the Christian Woman" the Endow retreat will focus on John Paul II's Letter to Women and the teachings of other saints like St Teresa of Avila and St. Teresa Benedicta (Edith Stein).
Speakers include Megan Gitchell of Cathedral parish, Angela Copenhaver of North American Martyrs parish (both of Lincoln), and Fr. Gary Coulter, director of the Retreat House.
The featured speaker is Simone Rizkallah, M.A., Director of Program Growth for Endow, who will talk on "A Personal Vocation."  "I want to clarify that a personal vocation is not about what Jesus wants us to do but who he is asking us to be."  Therefore Simone says, "A vocation isn't a problem to be solved, but a question to be lived."
Each talk will be followed by small group discussion, and participants will get a taste of Endow by studying a free chapter of one of the Endow studies.  No prior participation in Endow is required.
The name Endow is an acronym for Education on the Nature and Dignity of Women.  Founded in 2003 with the desire for all women to encounter the teachings of Pope St. John Paul II on authentic feminism, it has grown into an international apostolate in over 130 dioceses, reaching over 40,000 women all over the world.  Endow publishes small groups study materials for women on the truth of what the Church says about their dignity and value.
Although childcare is not provided, nursing babies are welcome, and a zoom option is available (zoom participants will also share in discussion).
The in-person retreat will include talks and times for discussion, the sacraments of Eucharist and Reconciliation, the Liturgy of the Hours and other devotions, extended opportunities for silence and adoration of the Blessed Sacrament.
Questions? Call us at 402-786-2705,
or email us at office@goodcounselretreat.org