No Greater Love
Couples 24-hour retreat: 6 talks + activities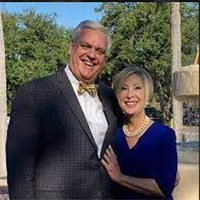 Jack & Johnnette Benkovic-Williams
Mar. 11-12, 2022
Jack and Johnnette Williams
"No Greater Love"
Love – Marriage – Blessings
Back by popular demand!
Enrich your marriage by spending a joyful and faith filled couples' retreat with Johnette and Jack Williams from EWTN! An opportunity to deepen your faith and love for each other through God's love!
Johnnette Benkovic Williams is the Founder and President of Women of Grace, a Catholic apostolate for women featuring a number of outreaches including conferences, media, study groups and more. After years of being a non-practicing Catholic, in 1981 Benkovic-Williams experienced a deep conversion back to her Catholic faith. Her conversion sparked a new vocation: that is, one of sharing the Gospel message through the media, Catholic radio and in Catholic television.
Johnnette is a popular conference speaker, published author, retreat director, and seminar presenter. She is the author of several books including "Full of Grace: Women and the Abundant Life," "Grace-Filled Moments," "Living Life Abundantly: Stories of People Who Have Encountered God," and "Experience Grace in Abundance: Ten Strategies for Your Spiritual Life and The New Age Counterfeit." She also developed the internationally recognized Women of Grace® Foundational Study Series which has transformed thousands of women worldwide through the healing love of Jesus Christ.
Jack Williams is the General Manager of EWTN Radio. After a radical conversion in 1981 Jack traveled college campuses in the United States and Australia as part of a charismatic, evangelical campus outreach. He spent a decade providing sports talk radio programming and live high school sports coverage in Des Moines, IA. After entering the Catholic Church in 2002, Jack began doing an hour-long Catholic program every weekday on a local evangelical radio station. He was later a member of the team that transformed that very station into a Catholic Radio Station. After spending time at the local EWTN radio affiliate in Birmingham, AL, Jack joined EWTN in 2014. In addition to his responsibilities as General Manager, Jack can be heard Monday through Friday at 2pm CT on EWTN Open Line.
Questions? Call us at 402-786-2705,
or email us at office@goodcounselretreat.org