Men and Women are from Eden
A practical and spiritual look at God's image and likeness expressed as male and female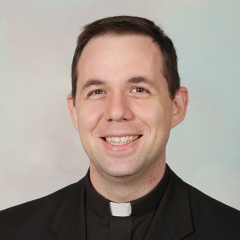 Fr. Nathan Hall
Jan. 14-16, 2022
3-Day Weekend Retreat for Men or Women (and Couples will love it!)
A practical and spiritual look at God's image and likeness expressed as male and female.
Fr. Hall suggests and will use as a resource the book by Dr. Mary Healy: "Men and Women are from Eden: A Study Guide to John Paul II's Theology of the Body"
Fr. Hall explains, "This is not just a retreat about marriage, it is for all people to learn God's truths about who we are as humans in physical bodies; our bodies are called the 'sacrament of the person.' This is certainly helpful for a better Biblical understanding of marriage, but it also helps us better understand being single or celibate."
Therefore he says, "I recommend this retreat for Catholics young and old, married or single.  You'll want to have a Bible handy for reading as well."
Pope St. John Paul II gave a series series of talks collectively known as his Theology of the Body, which emphasizes the value and sanctity of marriage and the gift of sexuality, as originally given to us by God outlined in Genesis.  Hear some good news about sex in a culture littered with the bad news of objectification of the human body that has depleted our dignity as human beings.
Fr. Nathan Hall is pastor of Sacred Heart Church in Roseland, Assumption in Roseland and a Teacher at Hastings Catholic Schools.
Retreat starts Friday at 8:00pm, ends Sunday with Noon lunch.
In-person at the Retreat House or at-home, live stream and on demand recordings.
In-person retreats include meditations by the retreat master, the sacraments of Eucharist and Reconciliation, the Liturgy of the Hours and other devotions, extended opportunities for silence and adoration of the Blessed Sacrament.
Questions? Call us at 402-786-2705,
or email us at office@goodcounselretreat.org