Inner Healing Prayer
Taking a look under the hood
with Fr Stephen Graeve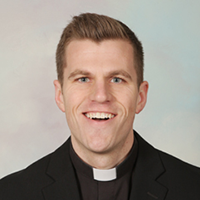 Fr. Stephen Graeve
Mar. 4-6, 2022
The Lord heals the brokenhearted, binds up their wounds (Psalm 147:3). Every human heart has a need for healing and Jesus the Divine Physician accompanies us on the journey as He gently and patiently heals our wounds and brings us into the glory which we will experience fully in heaven.
Men and women of all ages are invited to encounter the powerful love of the Father on this Inner Healing retreat with Fr. Stephen Graeve, all retreatants who desire will be able to receive Healing Prayer during private sessions with the Lincoln Equipping Team, praying with both in-person and Zoom participants.
Sessions will be aimed at preparing the hearts and minds of everyone participating in the Inner Healing Prayer experience.  The talks will provide practical insights for continuing the journey of healing and transformation of the heart.  By his wounds you have been healed (1 Peter 2:24).
"This retreat will open your heart, heal your wounds, and set you free from bondage. I experienced this freedom in renouncing, forgiving, and knowing I'm loved by the Father." —Diane Schneider, St. Peter parish, Lincoln
Fr Stephen Graeve is pastor of St Joseph Church, Paul and St Bernard Church, Julian. He is a teacher at Lourdes Central Catholic Schools, Nebraska City.
The Lincoln Equipping Team is a prayer and healing ministry whose mission is to empower Catholics to pray for one another and discover the healing power of Christ in their lives. This group was inspired by the work of the John Paul II Healing Center and the books of Dr. Bob Schuchts.
Virtual Retreat includes a handout of instructions on how to enter into prayer with a number of Scripture passages for healing.
Questions? Call us at 402-786-2705,
or email us at office@goodcounselretreat.org