Following the Footsteps of St. Joseph
Celebrate the Year of St. Joseph by imitating his selfless devotion, listening, obedience and humility
with Msgr. Mark Huber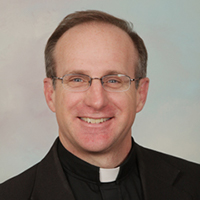 Msgr. Mark Huber
Sept. 24-26, 2021
Discover the spiritual riches and powerful influence St. Joseph can bring to your life.
The special "Year of St. Joseph" continues until Dec. 8, 2021. In his apostolic letter, Pope Francis explains that the aim of this special year is "to increase our love for this great saint, to encourage us to implore his intercession and to imitate his virtues and his zeal,"
The Pope describes St. Joseph as: beloved, tender and loving, obedient, accepting, creatively courageous, hard-working, and most important: a father. (Read Patris Corde)
This retreat is for men and women of all ages who want to increase their devotion to St. Joseph.
Msgr. Mark Huber hopes to connect Catholics with their "spiritual father." He said, "Sometimes we struggle to know and imitate St. Joseph. This is a chance to grow in prayer and friendship with him, who is a patron to every one of us."
Joseph is the patron saint of the Universal Church, families, fathers, expectant mothers, travelers, immigrants, craftsmen, engineers and working people, among others. He is also patron of the dying, who pray to die in the arms of Jesus and Mary.
Guardian of the Redeemer, Pray for us.
Questions? Call us at 402-786-2705,
or email us at office@goodcounselretreat.org