OUR HISTORY
Since 1963, Our Lady of Good Counsel Retreat House has been inviting all to come away for a while to rest, renew, and deepen your relationship with our Lord. We invite you to learn more about our history and mission, and how you can support this mission, by reading below.
GIVE A GIFT TODAY
CREATING A QUIET PLACE
Realizing the importance of a quiet and peaceful environment where Catholics might go to reassess their values, learn to judge all things in the light of faith, and deepen their knowledge of Sacred Scripture & Tradition, Bishop James V. Casey began the process of planning for the building and the operation of such a place.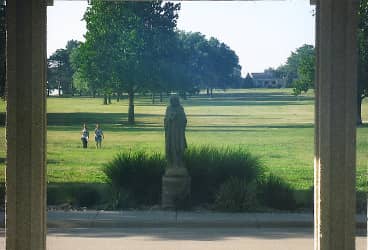 In November of 1959, Bishop Casey approached the Minster Provincial of the Franciscan Fathers of the Sacred Heart of St. Louis, Missouri, concerning the establishment of the first retreat house in the Diocese of Lincoln. They accepted his invitation and in the simplistic spirit of St. Francis, the planning began. On April 10, 1962, Bishop Casey blessed the site and construction began immediately thereafter.
The first retreatants arrived on October 10, 1963, followed by thousands of spiritually hungry souls in the ensuing years. The Friars were edified by the renewed spirit of all who availed themselves to the invitation to "come away to a quiet place and rest awhile." However, because of lack of personnel to staff the retreat center and funds to maintain it, the Franciscans found it necessary to seek permission to withdraw. On June 1, 1978, the retreat house was transferred from the Franciscans to the Diocese of Lincoln. It has been operated by the Diocese of Lincoln to our present day. From Bishop Casey's seed-planting in 1959 until now, the Our Lady of Good Counsel Retreat House has been a fruitful part of the unfolding plan of God for the people of our diocese.
LEADING THE FAITHFUL
Good Counsel Retreat House offers retreatants an atmosphere of prayer and recollection in a quiet, clean and serene facility.
As a Catholic ministry in the Diocese of Lincoln, our Mission is to provide a sanctuary and experience which leads people to encounter Jesus Christ. Through inspiring retreats and warm hospitality, we seek to transform and renew the spiritual lives of all desiring the opportunity to listen to the Holy Spirit and know the Father's love, peace, and healing.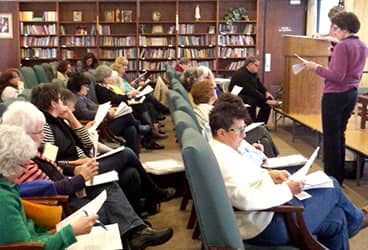 Our facilities include a chapel, library, dining room, and fifty individual rooms each with private bathroom and showers. We are situated on a beautiful spacious acreage amid the rolling hills just southwest of Waverly, Nebraska. The grounds allow for either a vigorous run, or a leisurely stroll in the clean air and rolling hills of our beautiful Nebraskan countryside.
We have the capacity to serve more than 2,500 retreatants annually. The priests of our diocese attend their annual retreat here – renewing and refreshing their spiritual lives to better serve their parishioners. Each year, approximately 20-25 retreat weekends are made available to lay men and women, in addition to 14 Engaged Encounter weekends devoted to those preparing for marriage. Numerous midweek days of reflection for men and women seeking the peace and consolation that only Christ can bring are scheduled throughout the year as well.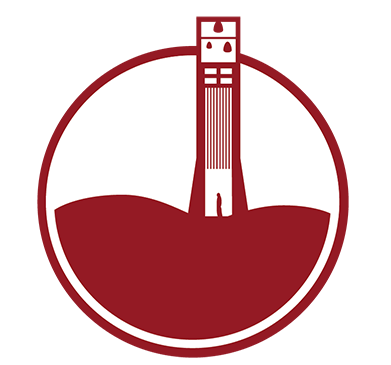 HELP OTHERS ENCOUNTER CHRIST
Though the Our Lady of Good Counsel Retreat House is an entity of the Diocese of Lincoln, we rely on the generosity of many individuals and organizations, such as Altar Societies, PCCW, and Knights of Columbus Councils, throughout the diocese to live out our mission of advancing the Kingdom of God.

A retreat is an experience that helps people grow closer to God by allowing them a space where they can be immersed in His presence. By giving to the Retreat House, you are helping others deeply encounter the Lord who otherwise might not be able to afford such an experience.

For all of your monetary and spiritual support, we are eternally grateful and pray the Lord to continue to bless you all with hearts of generous love.