Work of the Holy Angels
4-Day retreat Thursday-Sunday
with Opus Sanctorum Angelorum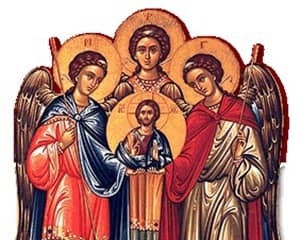 Opus Sanctorum Angelorum
Sept 7-10, 2023
4-Day In-person retreat for Men and Women
Please note: all registration for this retreat is handled by opusangelorum-org, therefore please contact 330-969-9900 for any payment or registration issues.
"In today's world we are in battle with evil forces and need to be aware more and more of our guardian angels and all the choir of angels that are with us every day," said Father William Wagner, ORC.
Father Wagner and Father John Brohl, ORC are giving the retreat as part of Opus Sanctorum Angelorum, the Work of the Holy Angels, an international movement within the Catholic Church faithful to the Magisterium. Its mission is to spread devotion to and conscious collaboration with the holy angels.
All men and women are invited to join the retreat which includes Mass and adoration, liturgy of the hours and devotions, time for private reflection and opportunities for confession or spiritual direction. Conference topics and a question-and-answer series will be on the spiritual life in general, as well as on the ministry of the angels, and how they help people to grow toward union with God.
Mary Ann Schmitt, a member of St Joseph Parish in Marceline, Mo., who has attended this retreat for many years, encourages to "experience four days of silence. The world consumes us with noise and so many distractions that I feel these days of retreat are a grace from God," she said.
For more information about Opus Sanctorum Angelorum, its mission and spirituality, visit www.opusangelorum.org.
The retreat on the Holy Angels will start with a 6 p.m. dinner on Thursday and end with Mass on Sunday, followed by lunch. As it is a four-day retreat with two priests, the suggested donation is $335. For more information or with questions, call Cheryl at 402-618-1733.
Questions? Call us at 402-786-2705,
or email us at office@goodcounselretreat.org