Unbound: Freedom in Christ (2024)
Live your baptism and the freedom of children of God, incolndiocese.org/unbound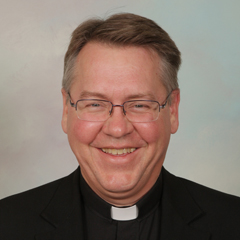 Fr. WIlliam Holoubek
Feb. 2-4, 2024
3-Day Weekend Retreat for Men or Women
Retreat starts Friday with rosary and Mass at 8:00pm, ends Sunday with Noon lunch.  Prayer Teams available.
Open your heart and respond more fully to Jesus's invitation of abundant life.  See lincolndiocese.org/unbound for more about Unbound Ministry.
Based on the book, Unbound: A Practical Guide to Deliverance by Neal Lozano, the retreat will help uncover the lies that have kept one from God and from His mercy. Unbound ministry prayer teams will be available on the retreat, to pray with participants using the five keys. Retreatants are asked to have read the first nine chapters of the Unbound book or watched the video series if you want to be prayed with.
Unbound provides a safe and effective model that helps individuals respond to the Gospel and apply the Lord's grace, love and truth by deeply listen to their own story and heart. Based on the book, Unbound: A Practical Guide to Deliverance by Neal Lozano, it employs five keys that enable people to experience a profound conversion experience: 1. Repenting of sin and expressing faith in Jesus; 2. Forgiving oneself and others; 3. Renouncing the lies, spirits and tactics of Satan; 4. Taking authority over the works of Satan; 5. Receiving the Father's blessing.
Our Lady of Good Counsel Retreat House offers a sanctuary of prayer and recollection on a spacious acreage near Waverly. There are 50 single rooms, each with a private bath. Retreats typically begin with a Rosary and Mass at 8 p.m. Friday, and end with Sunday Mass and lunch.
We want our retreats to be accessible to everyone, please consider an additional donation, or contact the Retreat House to inquire about financial assistance or if your parish pays part of the cost. If the retreat you're interested in is full, contact us to be put on a waiting list. A few double rooms are available upon request. Airport transportation to/from LNK or OMA is also available upon request.
In-person at the Retreat House or at-home, live stream and on demand recordings.  In-person retreats include meditations by the retreat master, the sacraments of Eucharist and Reconciliation, the Liturgy of the Hours and other devotions, extended opportunities for silence and adoration of the Blessed Sacrament.
Questions? Call us at 402-786-2705,
or email us at office@goodcounselretreat.org