Praying in the Spirit
Celebrate Divine Mercy Sunday
with Fr. Christopher Kubat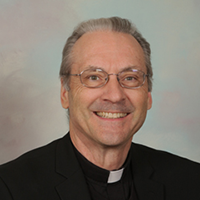 Apr. 22-24, 2022
3-Day Weekend Retreat for Men or Women
Fr. Kubat said, "this retreat on Divine Mercy will be a chance to experience the love Jesus bestows from His Father in the Holy Spirit."  All are invited to celebrate this "Mercy Sunday" weekend that "will help you to be immersed in the bountiful ocean of God's mercy."
"One of the most important parts of a retreat is not the preached talks, but the times of quiet, individual prayer spent meditating on those talks."  Fr Kubat continued, "the retreat will explore the benefits of silent prayer as a catalyst to encounter the love and mercy of Jesus Christ, especially by opening ourselves to the movement of the Holy Spirit."
Fr. Christopher Kubat is pastor of St Cecilia Church in Hastings.  Father Kubat was Director of Catholic Social Services in the Diocese of Lincoln, known for the many charitable works done to help the poor and the Catholic counseling services. A priest for 23 years, he previously served as assistant at St. Cecilia in Hastings and St. Mary in Lincoln.
Retreat starts Friday at 8:00pm, ends Sunday with Noon lunch.
In-person at the Retreat House or at-home, live stream and on demand recordings.
In-person retreats include meditations by the retreat master, the sacraments of Eucharist and Reconciliation, the Liturgy of the Hours and other devotions, extended opportunities for silence and adoration of the Blessed Sacrament.
Questions? Call us at 402-786-2705,
or email us at office@goodcounselretreat.org