Masses and Tears
Praying for loved ones away from the faith with hope and encouragement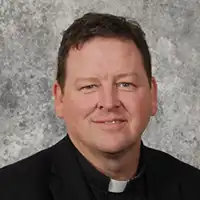 Fr. Jay Buhman
Dec. 15-17, 2023
3-Day Weekend Silent Retreat for Men and Women
with Fr. Jay Buhman
Retreat starts Friday with rosary and Mass at 8:00pm, ends Sunday with Mass and Noon lunch.
Ten years ago, Father Jay Buhman created a devotion to answer an oft-asked question, "What can I do for my child or loved one who has left the Catholic faith?"
The Masses and Tears devotion consists of a prayer written asking the intercession of Saint Monica, an image of Saint Monica before the Tabernacle, and offering Masses for loved ones who have left the faith.
Father Buhman, pastor of All Saints Parish in Holdrege, said the devotion is meant to support and encourage parents and others to persevere in prayer, so they can be confident and trusting that God is working behind the scenes, pursuing their loved ones.
It is Father Buhman's desire that the devotion will offer hope and direction during the Advent season for those saddened by their loved ones' separation from the Church, as this season can be a time when those who have left may feel called to return.
In-person at the Retreat House, the retreats include meditations by the retreat master, the sacraments of Eucharist and Reconciliation, extended opportunities for silence and adoration of the Blessed Sacrament, and other devotions.
Our Lady of Good Counsel Retreat House offers a sanctuary of prayer and recollection on a spacious acreage near Waverly. There are 50 single rooms, each with a private bath.  A few double rooms are available upon request.
We want our retreats to be accessible to everyone, please consider an additional donation, or contact the Retreat House to inquire about financial assistance or if your parish pays part of the cost. If the retreat you're interested in is full, contact us to be put on a waiting list.  Airport transportation to/from LNK or OMA is also available upon request.
https://www.lincolndiocese.org/news/diocesan-news/16498-masses-and-tears-praying-for-those-who-have-left-the-faith
Questions? Call us at 402-786-2705,
or email us at office@goodcounselretreat.org