Life in the Spirit Women's Retreat (Magnificat)
Women's Retreat with MagnificatMother Lucy and the DLJC Sisters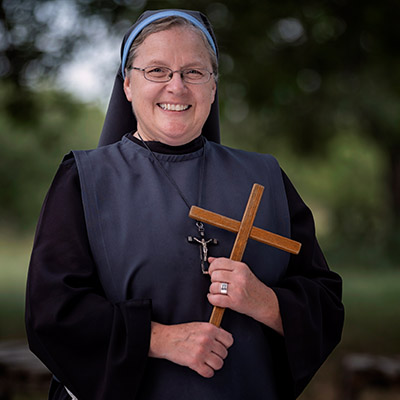 Sept. 23-25, 2022
3-Day Weekend Retreat for Women
Retreat starts Friday with a talk at 8:00pm followed by Mass, ends Sunday with Noon lunch.
Our Lady of Good Counsel Retreat House in Waverly welcomes back Mother Lucy and other Sisters of the Disciples of the Lord Jesus Christ (DLJC Sisters) for a weekend retreat for Women September 23-25, sponsored by the Morning Star Chapter of Magnificat.
The retreat is an invitation for women to 'Be Renewed in the Spirit', to receive a greater outpouring of God's Love in Jesus, and to rediscover the promise of the Father in the Holy Spirit. A series of teachings and reflections will be accompanied with times of prayer.
The retreat will be based on the Scriptures and the Catechism, and will be a time to ponder the role of the Holy Spirit in the life of Our Blessed Mother and in everyone's life. It is for women of all ages who are looking for the Joy of the Lord in their lives.
The retreat will be given by Mother Lucy and other sisters of the Disciples of the Lord Jesus Christ, a Franciscan Charismatic Religious Congregation in the Diocese of Amarillo, Texas.
Mother Lucy grew up in a strong Catholic family in Farwell, Neb. She entered the Disciples in 1988 and Lucy has been heavily involved in youth ministry, adult ministry, evangelistic outreach, leading praise and worship, and was superior of the community. She said her greatest joy is "praising the Lord and bringing people to a deeper realization of a great God who has a plan for their life."
Magnificat is a women's ministry that encourages a lively, active faith in the Lord, along with a love for Mary and the Church. Members are encouraged to become more open to the Holy Spirit through a deeper commitment of their lives to Jesus as Lord and to loving service.
Our Lady of Good Counsel Retreat House offers a sanctuary of prayer and recollection on a spacious acreage near Waverly. There are 50 single rooms, each with a private bath. We want our retreats to be accessible to everyone, please consider an additional donation, or contact the Retreat House to inquire about financial assistance or if your parish pays part of the cost. If the retreat you're interested is full, contact us to be put on a waiting list. A few double rooms are available upon request. Airport transportation to/from LNK or OMA is also available upon request.
Questions? Call us at 402-786-2705,
or email us at office@goodcounselretreat.org