I+U=We Marriage Workshop
Love and Life retreat workshops for couples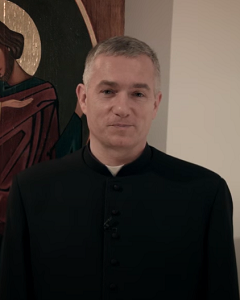 Fr. Jarosław "Jay" Szymczak
Feb. 24-26, 2023
It the I+U=We – Love and Life Workshop for you? If your marriage is already strong as iron and impervious to challenges, this workshop isn't for you, it is for your children, your extended family, and others around you. Once you return from the workshop, your example and your encouragement can help others to enrich and defend their marriage. In reality, no marriage is perfect. If your marriage is not always strong as iron and totally impervious to challenges, this is for you as well as your children, your extended family, and others around you. In other words, it is for you and for others in your life.
For better, for worse, for richer, for poorer, in sickness and in health, marriage has is blessings and its challenges. Few people over the age of 10 sugar coat marriage, but even fewer pay much attention to the challenging parts of marriage until we have already spoken our vows and started our new life with our spouse.
How can you maximize the blessings and successfully overcome the challenges? There are some basic steps you can take to enrich your marriage and meet each challenge as it comes along. There are steps you can take to prepare yourselves to repel some challenges so they never even rear their ugly heads, and these same steps help sort out and heal challenges from the past, so you can successfully put them in the past and the lingering effects of a challenge can turn into a lesson learned and a source of strength in the future.
These are intentionally called "steps" because marriage is a measured walk through life with your spouse and with your family.
Fr. Jarosław Szymczak (Fr. Jay) of the Institute of the Holy Family in Łomianki, Poland, will lead the workshops. Fr. Jay holds a doctor of theology on marriage and the family, and has worked as a lecturer at the Faculty for Studies on the Family at Cardinal Stefan Wyszyński University in Łomianki/Warsaw since 1987.  The workshops are based on the teachings of the Church, including the teachings of St. Pope Paul VI and St. John Paul II, as well as the findings of Archbishop Majdański's psychological and sociological studies and research.
Father Jay's workshops have helped husbands and wives reunite after divorce, have saved marriages in the midst of divorce, and have saved marriages on the verge of divorce. However, the workshops are not specifically designed for troubled marriages. They are actually designed for functioning marriages as well as strong marriages. The objective is to prevent the habits and mistakes which lead to the problems which end with unhappiness and divorce. History has shown that the intellectual and spiritual environments taught in the workshops can help any marriage, no matter how good or how troubled the marriage is.
After you complete the workshop, you will be able to become part of a "Family Care Center" which serve as a refueling station and/or a safe harbor for graduates of I+U=We. There you can grow in friendship with other couples in your area, stay in touch with Fr. Jay and the other coach couples in your area, and refresh your recollection and practices of the steps you have learned in I+U=We. This means that the workshop is just the start of what can become a support network for years to come.
Friday Check in at 4:00pm.
Workshop begins at 6pm.
The Workshop concludes at 4pm on Sunday
All of your room and board is included in your registration fee. Please bring all your personal needs for two nights and three days, including clothing for Mass at which you can renew your wedding vows, and clothing suitable for outdoors as you may want to take walks as a couple throughout the weekend.
Questions? Call us at 402-786-2705,
or email us at office@goodcounselretreat.org