The Holy Spirit in Daily Life
A Lenten retreat, inviting you to experience the gifts of the Spirit who brings strength and peace
with Fr. Brian Connor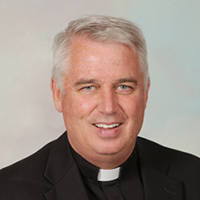 Mar. 25-27, 2022
3-Day Weekend Retreat for Men or Women
Understand the gentle ways the Spirit acts in our lives, guiding us to the Father and Son–especially through the virtues of faith, hope, and charity. Explores the seven gifts, which make us attentive to the promptings of the Holy Spirit, living the consoling fruits of the Spirit and the Beatitudes in daily life.
When we realize the deep love God has for us and the Wisdom He wants us to have, we can truly live a life of love and joy.
Fr. Brian Connor is pastor of North American Martyrs Church in Lincoln.
Retreat starts Friday at 8:00pm, ends Sunday with Noon lunch.
In-person at the Retreat House or at-home, live stream and on demand recordings.
In-person retreats include meditations by the retreat master, the sacraments of Eucharist and Reconciliation, the Liturgy of the Hours and other devotions, extended opportunities for silence and adoration of the Blessed Sacrament.
Questions? Call us at 402-786-2705,
or email us at office@goodcounselretreat.org