Holiness for Moms (Fall 2023)
Saturday reflection for Moms of Young People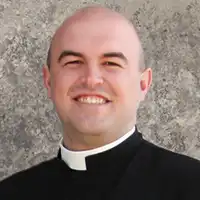 Fr. Christian Schwenka
Oct. 21, 2023
Holiness is for everyone. In every phase of life. (Seriously).
Parenting young children comes with a lot of rewards, but, turns out, it's also really hard. And demanding. And compounding the fact that sometimes you literally have no minutes during the day when someone doesn't NEED SOMETHING DESPERATELY, it's hard to get away on retreat and reconnect with Jesus.
I get it.
So we made this retreat to be manageable. It's one day. Bring your baby (leave your big kids with dad or grandma or a babysitter). Bring a pack n play. We may or may not have some grandmas on hand to help rock babies, but I can promise that no one will give you the stink eye if your baby cries or you need to nurse or pump or whatever.
Fr. Christian Schwenka, parochial vicar of St. Teresa parish in Lincoln, will lead the retreat along with testimony from, encouragement by, and discussion with other moms.  The retreat address questions like: "What am I doing with my life?" "What if parenting isn't my all time favorite life thing?" "What is my identity now that this is what I'm doing?" "How can I pray even in the midst of these crazy years?"
There will be time for Mass, confession, silent-ish prayer time, rest, and community. I hope you can join us.
Retreat will be Saturday from 8:00 a.m. to 4:30 pm at the Good Counsel Retreat Center in Waverly (just outside of Lincoln) and will include lunch and snacks.
Feel free to email Marilyn Klein at marilyn-klein@cdolinc.net with any questions or concerns.
Please note: the registration for this retreat is handled by the Diocese of Lincoln, therefore please email Marilyn Klein at marilyn-klein@cdolinc.net for any payment or registration issues.
Questions? Call us at 402-786-2705,
or email us at office@goodcounselretreat.org