Growing in the Spirit (Women)
How we are called to bring Christ to others as Baptized and Renewed in the Spirit Catholics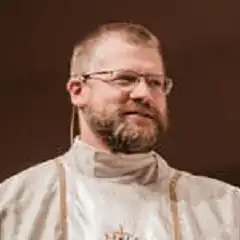 Fr. Michael Voithofer and Magnificat
Nov. 17-19, 2023
3-Day Weekend Retreat for Women
with Fr. Michael Voithofer and Magnificat (in person only)
Retreat starts Friday with rosary and Mass at 8:00pm, ends Sunday with Mass and Noon lunch.
"Come Holy Spirit and fill the hearts of the faithful. Enkindle in us the fire of your love and you shall renew the face of the Earth!" The Lord longs to more fully activate the gifts of the Holy Spirit in our lives. Are you hungry for a greater release of God's love and power in your life? Register today!
Fr. Michael Voithofer is the founder and spiritual director for Ablaze House of Prayer. Fr. Michael offers silent retreats at the Ablaze House and is also the director of the Omaha Encounter School of Ministry. Go to www.ablazeworship.org to learn more about this Eucharistic Revival ministry.
Magnificat is a woman-to-woman ministry encouraging a lively, active faith in the Lord, a love for Mary and the Church, and a growing openness to the Holy Spirit through a deeper commitment of their lives to Jesus as Lord. They also seek to impart the Holy Spirit to one another by their love, service and sharing the good news of salvation.  Read more about Magnificat and its activities.
The retreat will include praise and worship music, time to receive prayer, and opportunities for both discussion and silent reflection.
In-person at the Retreat House, the retreats include meditations by the retreat master, the sacraments of Eucharist and Reconciliation, extended opportunities for silence and adoration of the Blessed Sacrament, and other devotions.
Our Lady of Good Counsel Retreat House offers a sanctuary of prayer and recollection on a spacious acreage near Waverly. There are 50 single rooms, each with a private bath.  A few double rooms are available upon request.
We want our retreats to be accessible to everyone, please consider an additional donation, or contact the Retreat House to inquire about financial assistance or if your parish pays part of the cost. If the retreat you're interested in is full, contact us to be put on a waiting list.  Airport transportation to/from LNK or OMA is also available upon request.
Questions? Call us at 402-786-2705,
or email us at office@goodcounselretreat.org