God's Beautiful Beloved
Understanding the Feminine Genius;
24-hour retreat for women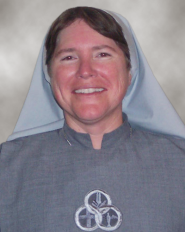 Sr. Anne Marie Walsh, Solt
May 12-13, 2023
God's Beautiful Beloved
Understanding the Feminine Genius According to JPII and our recent Holy Fathers.
24-Hour Retreat for Women begins Friday 6pm, concludes with Saturday Supper.
Main themes are taken from the Apostolic Letter "Mulieris Dignitatem" on the Dignity and Vocation of Women.  Supplemental material comes from Vatican II, and various writings on women from people like Archbp Fulton Sheen, Edith Stein, and anthologies of Catholic women.
Titles of talks:
Intro to the Topic God's Beautiful Beloved and the Feminine Genius

They Marveled He Was Talking to a Woman

The Greatest of These is Love

Mary and My Life in the Trinity
There will be small group discussions for the women using discussion questions.
Sr. Anne Marie Walsh, SOLT is a perpetually professed Sister of the Society of Our Lady of the Most Holy Trinity (SOLT) which she joined in 1983.  She has served in Our Lady's Montessori School in Kansas City, both as teacher and administrator.  She has been involved in pro-life work, faith formation classes and giving Days of Recollection for women.  
From 2003-2013  Sister was elected and served as General Sister Servant – responsible for all SOLT Sisters serving throughout the world.
Sr. Anne is currently assigned to Domus Trinitatis, (Home of the Trinity) Retreat Center in Willey, Iowa.  She conducts Healing of Family study groups and retreats, Retreats on the Dignity and Vocation of Woman, Ignatian retreats, retreats for people with cancer, and other retreats as requested.  She is versed in the Christian anthropology (Christian understanding of the human person) of Pope St. John Paul II and has spoken on that area for the last 25 years, here and all over the world in some of SOLT's international missions.
She is a regular columnist for the diocesan paper, Sioux City Catholic "The Lumen."  Her blog can be found at:  www.missionaryinthemodernworld.blogspot.com
Questions? Call us at 402-786-2705,
or email us at office@goodcounselretreat.org