Following the Lord, Little by Little (Poco a Poco)
Celebrate Palm Sunday weekend and Holy Week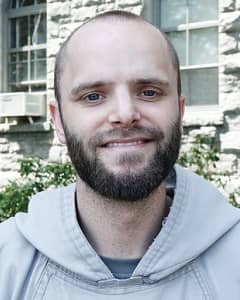 Father Innocent Montgomery, C.F.R.
Mar. 31-Apr. 2, 2023
3-Day Palm Sunday Weekend Retreat for Men or Women
Retreat starts Friday with rosary and Mass at 8:00pm, ends Sunday with Mass and Noon lunch.
Scott Montgomery grew up in Lincoln, Nebraska as one of three triplets—Katie (Havlat), Scott and Russell (now Father Angelus).  He entered the Franciscan Friars of the Renewal in 2007 and made final vows in 2012.  He has served homeless men and those with addictions at St. Anthony Shelter for Renewal in the Bronx.  He was ordained a priest in 2016.
The Franciscan Friars of the Renewal were founded in 1987 by eight Franciscan friars, and today number more than 140. They have several friaries in New York City, as well as New Jersey, New Mexico, Honduras, Nicaragua, Great Britain, and Ireland. Their primary mission is "a wholehearted embracing of Jesus Christ and our Holy Father St. Francis."
Fr. Innocent can be heard with Fr. Angelus and Fr. Mark-Mary on the weekly podcast, Poco a Poco, which offers an insight into the spiritual life and Francisan spirituality by breaking open the Gospel in light of their years of prayer, communal life, and work with the poor.  Learn more at www.franciscanfriars.com.
In-person at the Retreat House or at-home, live stream and on demand recordings.  In-person retreats include meditations by the retreat master, the sacraments of Eucharist and Reconciliation, the Liturgy of the Hours and other devotions, extended opportunities for silence and adoration of the Blessed Sacrament.
Our Lady of Good Counsel Retreat House offers a sanctuary of prayer and recollection on a spacious acreage near Waverly. There are 50 single rooms, each with a private bath.  A few double rooms are available upon request.
We want our retreats to be accessible to everyone, please consider an additional donation, or contact the Retreat House to inquire about financial assistance or if your parish pays part of the cost. If the retreat you're interested in is full, contact us to be put on a waiting list.  Airport transportation to/from LNK or OMA is also available upon request.
Questions? Call us at 402-786-2705,
or email us at office@goodcounselretreat.org