Five Marian Stones and Consecration to the Immaculate
A retreat on the Marian Dogmas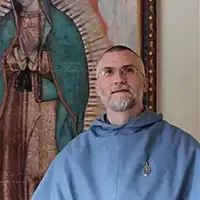 Fr. Elias Mary F.I.
Dec. 1-3, 2023
3-Day Weekend Silent Retreat for Men and Women
with Fr. Elias Mary F.I.
Retreat starts Friday with rosary and Mass at 8:00pm, ends Sunday with Mass and Noon lunch.
A Nebraska native, Fr. Elias Mary Mills, F.I. discernment to the priesthood and religious life began before his graduation from Kearney State College. There he spent two years in formation as a Carmelite, being professed in 1986. As a volunteer with the Conventual Franciscans at Marytown, he learned about St. Maximilian Kolbe and Total Consecration to the Immaculata. He entered into his seminary formation at Holy Apostles Seminary in Cromwell, CT. During this time, he was introduced to the Franciscans of the Immaculate, and would join the F.I. in 1993 and make his Final Profession in September 1999. During the Jubilee Year of 2000, on May 27, Fr. Elias was ordained a priest by Bishop Fabian Bruskewitz in Lincoln, Nebraska.
In his extensive travels as a missionary priest, Fr. Elias served the Friars's mission in Western Australia for three years as well as the F.I. Friary here in Griswold and then traveled back to Castelpetroso, Italy. He was then assigned serving nine years as Father Guardian and Retreat
Program Director at the Mother of the Redeemer Retreat Center in Bloomington, Indiana. In December 2016 – August 2021, Fr. Elias served at the Shrine of Our Lady of Guadalupe in La Crosse, Wisconsin as Rector of the Shrine Church.
Fr. Elias' passion and love for Our Lady is undaunted, as can be seen and heard in his many retreat talks and homilies. Ave Maria!
In-person at the Retreat House, the retreats include meditations by the retreat master, the sacraments of Eucharist and Reconciliation, extended opportunities for silence and adoration of the Blessed Sacrament, and other devotions.
Our Lady of Good Counsel Retreat House offers a sanctuary of prayer and recollection on a spacious acreage near Waverly. There are 50 single rooms, each with a private bath.  A few double rooms are available upon request.
We want our retreats to be accessible to everyone, please consider an additional donation, or contact the Retreat House to inquire about financial assistance or if your parish pays part of the cost. If the retreat you're interested in is full, contact us to be put on a waiting list.  Airport transportation to/from LNK or OMA is also available upon request.
Questions? Call us at 402-786-2705,
or email us at office@goodcounselretreat.org