Eucharistic Adoration Retreat
Fr. Zachary, SOLT and the Knights of the Holy Eucharist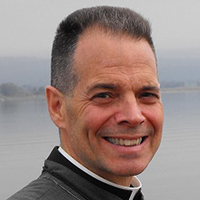 Oct. 7-9, 2022
Deepening Your Love of Jesus in the Most Holy Eucharist
with Fr. Zachary, SOLT and the Knights of the Holy Eucharist
Eucharistic Adoration Retreat for Men and Women
Father Zachary of the Mother of God, SOLT, will return to Our Lady of Good Counsel Retreat House near Waverly for the fifth Eucharistic Adoration Retreat
Men and women of all ages are invited to go deeper into Sacred Scripture, the Catechism and teachings of the Saints on the Most Holy Eucharist.
"A Retreat is especially important at this time where the world is so full of division, fear and noise," he says, "Retreat from the world and enter into the communion, peace and calm that God offers you. The Most Holy Eucharist is the perfect answer to all your questions. Come and see."
Hosted by the Knights of the Holy Eucharist, a group of Franciscan religious brothers founded in 1998 by the late Mother Mary Angelica, foundress of EWTN. They are serving the Church in the Diocese of Lincoln and dedicated to fostering reverent devotion to the Lord in the Most Blessed Sacrament.
Father Zachary of the Mother of God is a member of the Society of Our Lady of the Most Holy Trinity (SOLT). He appears on EWTN and speaks frequently at conferences, parish missions, and as a retreat master, displaying his love and commitment to the priesthood, the Eucharist, Our Lady, and Holy Mother Church in his life and mission.
"A retreat is a time to remember: God is God, He is good, the supreme good, He is our Father, Savior and Friend.  He has a plan and he's going to carry it out.  Yes, there is a journey, there are struggles and challenges.  But keep your focus on God, even during these times: 'Keep your eyes fixed on Jesus Christ.' (Hebrews 12:2)"
"We need faith. We all have anxieties, concerns, fears, worries – especially in our society and culture.  But God has chosen you to live in this time, to live your baptism in Christ and change the world, by becoming the saints you're meant to be. And if you want to be holy, you need a relationship with the Holy Spirit."
Our Lady of Good Counsel Retreat House offers a sanctuary of prayer and recollection on a spacious acreage near Waverly. There are 50 single rooms, each with a private bath. Retreats typically begin with a Rosary and Mass at 8 p.m. Friday, and end with Sunday Mass and lunch.
We want our retreats to be accessible to everyone, please consider an additional donation, or
contact the Retreat House
to inquire about financial assistance or if your parish pays part of the cost. If the retreat you're interested is full,
contact us
to be put on a waiting list. Airport transportation to/from LNK or OMA is also available
upon request
.
Questions? Call us at 402-786-2705,
or email us at office@goodcounselretreat.org