Encontrando la alegría de vivir / Finding the joy in living
Ejercicios Espirituales en Español / Retreat in Spanish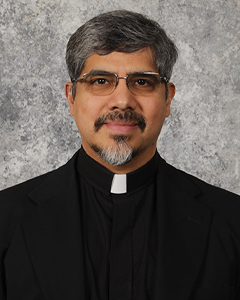 Oct 28-30, 2022
Casa de Retiros de Nuestra Señora de Buen Consejo ofrecerá un retiro en español el 28-30 de octubre.
El padre Rafael Rodriguez-Fuentes dará el tema de "Encontrando la alegría de vivir" en la casa de retiros cerca de Waverly.
El Plan Pastoral para el Ministerio Hispano en la Diócesis de Lincoln (2016) nota las bendiciones y dificultades para católicos hispanos. Una de las dificultades y de los cinco puntos de acción fue la falta de retiros en español.
El retiro de 28-30 de Octubre va a cubrir los fundamentos de meditación para tener una vida de oración más efectiva.
El retiro es para los adultos que hablan español, para crecer en su vida de oración para que la comparten con sus hijos. El retiro será silent la mayoría del tiempo pero con oportunidades de recreación y discusión.
Retiros los fines de semana en Weekend retreats Casa de Retiros de Nuestra Señora de Buen Consejo en Waverly empieza los viernes a las 8 p.m. y terminan los domingos con almuerzo.
3-Day Weekend Retreat for Men or Women
Retreat starts Friday with rosary and Mass at 8:00pm, ends Sunday with Mass and Noon lunch.
In-person at the Retreat House or at-home, live stream and on demand recordings.  In-person retreats include meditations by the retreat master, the sacraments of Eucharist and Reconciliation, the Liturgy of the Hours and other devotions, extended opportunities for silence and adoration of the Blessed Sacrament.
Our Lady of Good Counsel Retreat House offers a sanctuary of prayer and recollection on a spacious acreage near Waverly. There are 50 single rooms, each with a private bath.  A few double rooms are available upon request.
We want our retreats to be accessible to everyone, please consider an additional donation, or contact the Retreat House to inquire about financial assistance or if your parish pays part of the cost. If the retreat you're interested in is full, contact us to be put on a waiting list.  Airport transportation to/from LNK or OMA is also available upon request.
Questions? Call us at 402-786-2705,
or email us at office@goodcounselretreat.org